Dear Diary,
I decided to start a "Wedding Wednesday" series since I will be sharing my wedding plans with you all this year!
With that said, welcome to the first post of the series!
---
For my first Wedding Wednesday post, I thought it would be the perfect time to talk about the Royal Wedding that occurred this past weekend!
I'm not sure if it's because I'm planning my own wedding right now or I am just totally obsessed, but I was all about the Royal Wedding of Prince Harry and Meghan Markle.
This Royal Wedding was much more controversial than any other. Since I have been following along the journey, I thought I would share my opinions on the big event!
The Controversies:
Meghan Markle is not Royalty, but that isn't the only controversy of this wedding.
The Dresses
Many were shocked and underwhelmed by Meghan Markle's wedding ceremony gown. Though it was definitely simple, I think it was absolutely stunning and classic. As were her tiara, her simple hair and makeup, and her beautifully long veil. The three quarter sleeves and the boat neckline on her gown had my eyes popping out of my head!
I also was completely obsessed with her reception dress. Like are you joking?! Who is that gorgeous?! I loved that she showed a little bit more with her shoulders exposed, but still kept it beautifully classy with the high neck and sleek white.
Meghan's Family
The family of the now Duchess of Sussex has been a big discussion throughout this process.
Meghan's father was not in attendance. Instead Prince Charles, her now father-in-law, walked her down the aisle. Though this is quite nontraditional, I found it beautiful that the Royal family accepted her enough to have the Prince give Meghan away to his son.
Meghan's mother attended the wedding in a beautiful mother-of-the-bride dress and a nose ring, both of which also seemed to be controversial. In my opinion, she looked gorgeous. I applaud her for sitting so strongly and independently to watch her daughter get married. Imagine how nervous she must have been. She was completely out of her element surrounded by royalty!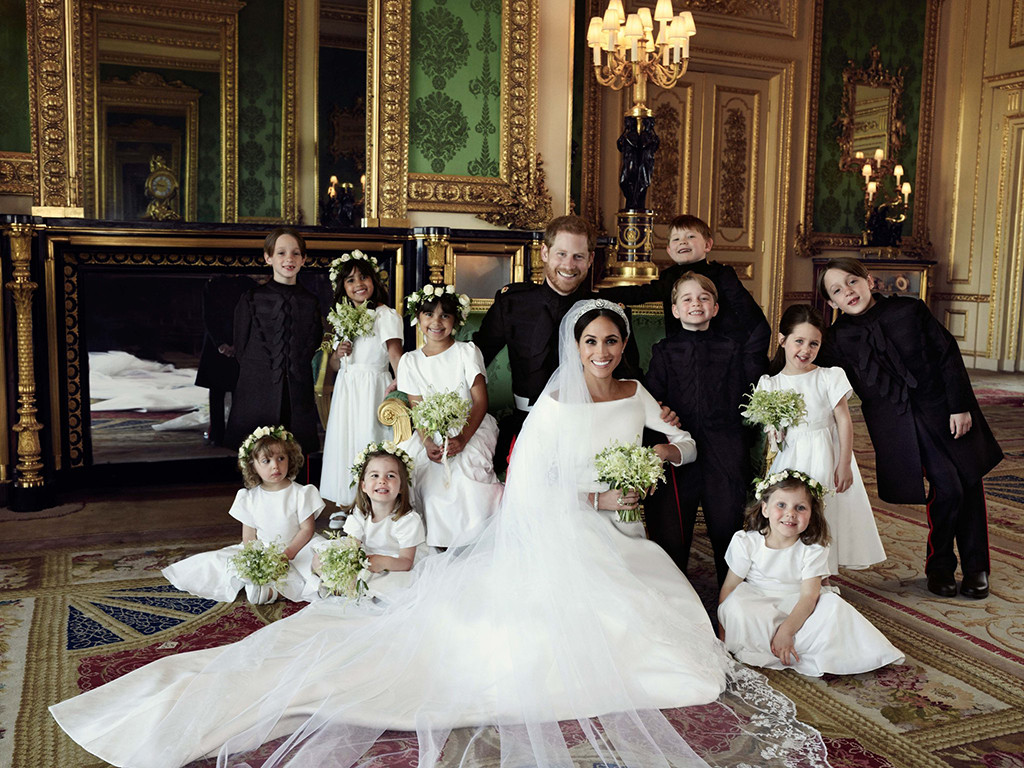 Meghan also decided to have her family members as flower girls and pageboys. Traditionally, they are all royalty. Three of the six girls and two of the four boys were relatives of Meghan's.
The Guests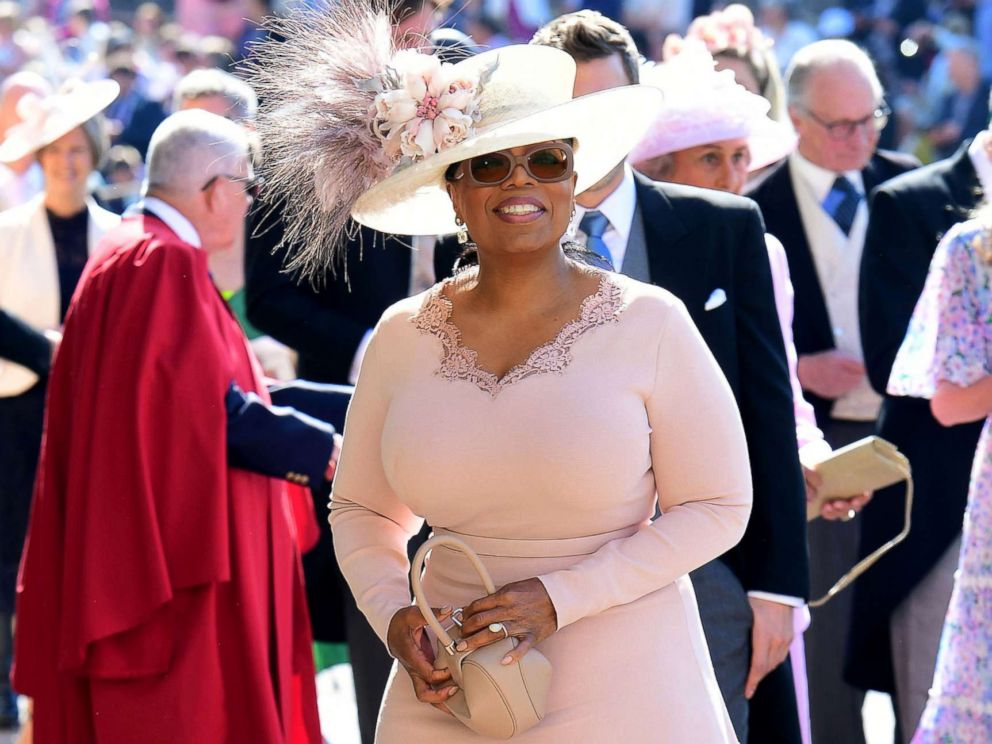 Being that Meghan is a former actress, she has a lot of celebrity friends! It was exciting to see Oprah Winfrey and George Clooney at the wedding of the century!
Multicultural Ceremony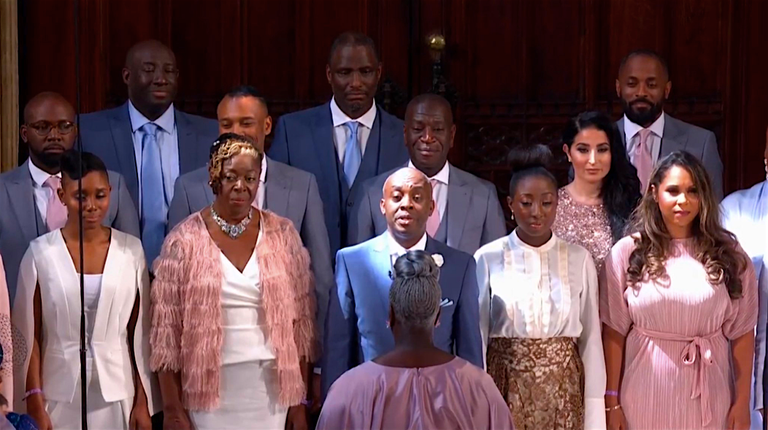 The ceremony was given by the bishop of the American Episcopal Church and later a gospel choir performed "Stand By Me". I loved these touches of Meghan's culture and faith!
The Couple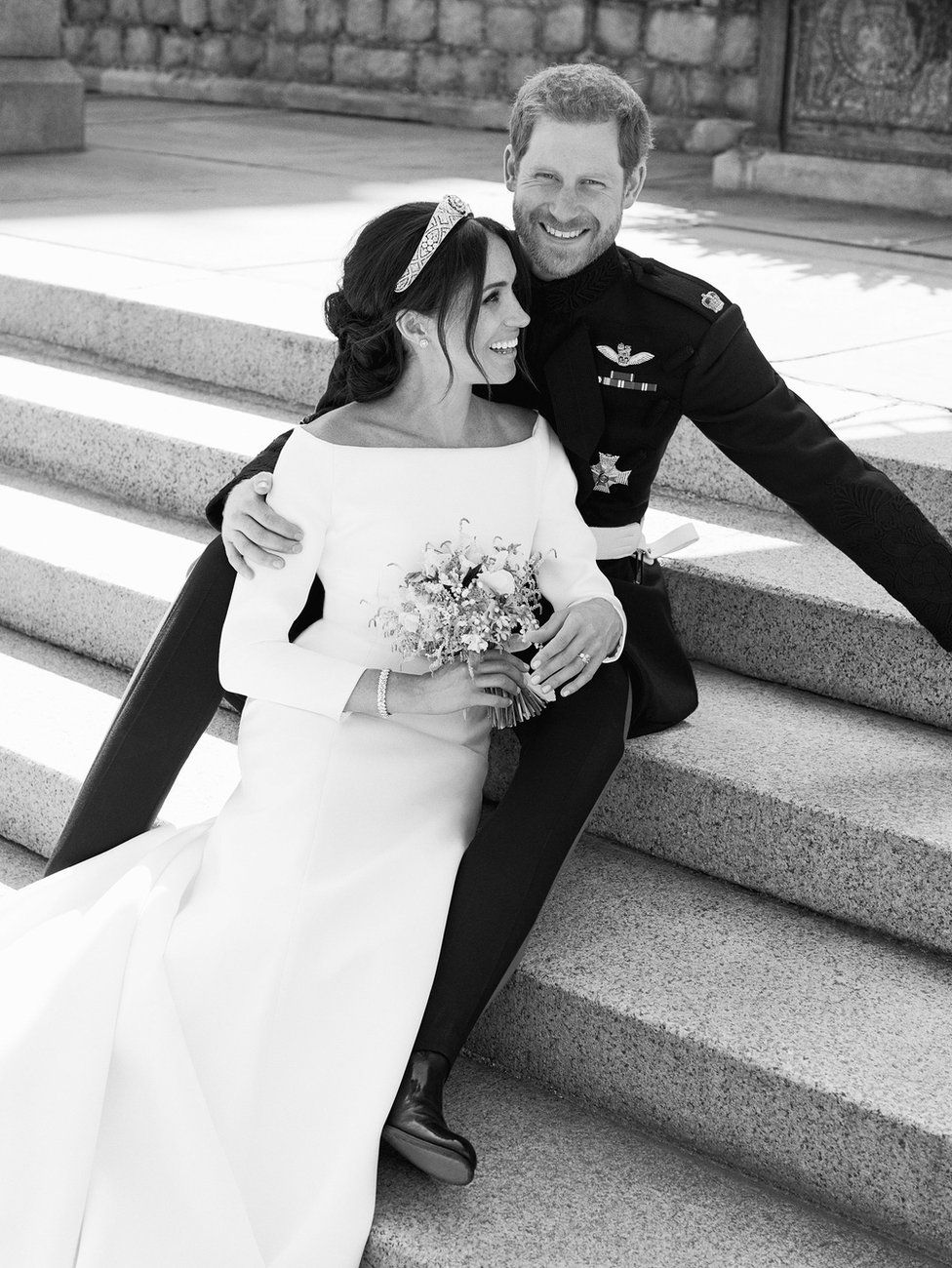 Traditionally at a royal wedding, the groom does not watch the bride walk down the aisle. Prince Harry watched his bride walk all the way down the long aisle with a tear filled smile (my heart!) When she got to the alter, he said "You look amazing. I'm so lucky." The two also held hands throughout the entire ceremony, which usually does not happen either.
I loved seeing how truly in love these two are by their physical interaction and adorable loving looks during the wedding…Now I just can't wait to see how gorgeous their babies will be someday!!!
The Kiss
Meghan and Prince Harry had never kissed publicly since the Queen does not believe that PDA is appropriate. Royals are also not to kiss inside of the church because it is viewed too holy of a place. Needless to say, we were all waiting to see the big kiss!
At past royal weddings, the bride and groom have shared their first kiss from the Buckingham Palace balcony. Meghan and Prince Harry, though, couldn't wait to lock lips and did so as soon as they exited the church. The crowd went absolutely wild with cheers!
Meghan
And finally, Meghan herself.
Aside from not being Royalty, Meghan also is American, 3 years older than Harry, divorced, a former actress, has some family issues, bi-racial, etc.
Here's what I have to say….
WHO CARES?!
Why are we so focused on her past and her race instead of the INCREDIBLE person that she is?!
She traveled to and worked for several charities. Before having to delete her social media, she wasn't posting selfies…she was posting about the incredible organizations that are important to her. She started changing the world at the age of 11 by sending letters to women like Hillary Clinton to advocate for women's rights. She is an amazing independent woman. Why are we so quick to judge her? We should be absolutely floored to have someone like Meghan in the royal family.
Just watch  this video and fall in love with her!!
---
Overall, I loved every second of the Royal Wedding! I am happy to see a couple like Meghan and Prince Harry  so deeply in love. I can't wait to see what type of role Meghan takes on as the Duchess of Sussex!
What are your thoughts on the Royal Wedding? Comment below!
Stay tuned for more Wedding Wednesday's! Comment what you'd like to see in my next post of the series!
 Loving posts about love? Check out my 13 Reasons I Knew I Would Marry Him!
Thanks for stopping by to read my not-so-secret diary!
xx,
Beth